Research Associate

Institute for the Oceans and Fisheries

Degrees

PhD Biological Sciences
MRes Marine Biology
BSc Marine Biology & Oceanography
Contact Information
Email: g.mordecai@oceans.ubc.ca or gidmord@gmail.com
Twitter: @gidmord
Research Interests
Dr. Gideon Mordecai's research considers the ecology of viruses, i.e. their interactions with each other, their hosts, and the environment. Despite his prior training as a marine biologist, Gideon investigated the diversity of viruses associated with population declines of honey bees and other pollinators for his PhD. Gideon moved to Canada for a post-doctoral position at the University of British Columbia in 2016, where he discovered 15 new viruses in salmon. He went on to receive a Liber Ero Fellowship, which supports emerging conservation leaders in Canada. His most recent research applies viral genome sequencing to assess the transmission risk posed to wild Pacific salmon by Atlantic salmon aquaculture in BC. He has authored 20 publications as well as served as an expert witness for two Federal Court cases in Canada.
For his Research Associate position within the Institute for the Oceans and Fisheries, Gideon is partnered with the Pacific Salmon Foundation, and is part of a collaboration which is applying innovative molecular technologies to determine the cumulative factors that influence the survival of Pacific salmon.
Selected Publications
Mordecai, G. J. et al. Aquaculture mediates global transmission of a viral pathogen to wild salmon. Sci Adv 7, (2021). (https://www.science.org/doi/10.1126/sciadv.abe2592)
Mordecai, G. J. et al. Discovery and surveillance of viruses from salmon in British Columbia using viral immune-response biomarkers, metatranscriptomics and high-throughput RT-PCR. Virus Evol, (2020). (https://academic.oup.com/ve/article/7/1/veaa069/5900273)
Mordecai, G. J. et al. Endangered wild salmon infected by newly discovered viruses. Elife 8, (2019). (https://elifesciences.org/articles/47615)
Related stories: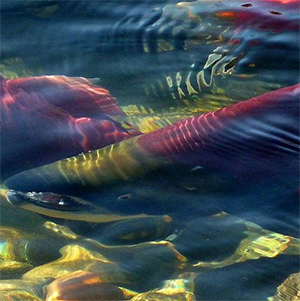 Two UBC researchers are exploring the problem of dwindling salmon runs from opposite ends of the knowledge continuum—cutting edge genomics, and empirical evidence gathered over millennia by the Indigenous Peoples of the coast.